What exactly is influencer marketing and how can it help your brand? In this article, we take a look at the benefits of creating an influencer marketing campaign in 2023, particularly for eCommerce brands. We'll outline how to create the right strategy, plus some successful examples and existing case studies.
What is Influencer Marketing?
Influencer marketing aims to bring exposure to brands when influencers share their products or services on social media. Influencers are people with a large following in a particular niche, different from their celebrity counterparts who might be paid to simply endorse a product due to their fame.
Learn the critical differences between influencers and brand ambassadors in our free whitepaper: Under The Influence: Influencer vs Ambassador Marketing
Most often, influencers are real people, producing their own real content and sharing it with the world. A lot of effort goes into producing their content and building their following which results in a more authentic form of online marketing as their followers trust their social endorsements.
Instagram influencers are one of the most popular types of influencers. But you can find these brand representatives on all social media platforms. While many successful influencers now hire virtual assistants to schedule their content and continually grow their following, most continue to personally engage with their audience through their social media platforms and are therefore able to impact or influence the purchasing decisions of their followers.
Why Do eCommerce Brands Need Influencer Marketing?
Since Too Hot Too Handle was released on Netflix, Francesca Farago gained over 3 million followers in 3 weeks. With her rise to fame, she launched Farago The Label. By simply tagging @faragothelabel in one post on her account her swimwear brand gained 45.5K followers. That's the power an influencer can bring to an eCommerce brand!

When you take that principle and build a campaign around a handful of influencers in your target demographic, social buzz is created around your product. Suddenly all these cool, influential people are affiliated with your brand and everyone wants a piece of you.

Pro tip: Make building, managing, and scaling your influencer marketing strategy much easier and more efficient with influencer marketing software.

Today, more brands than ever are choosing to work with micro-influencers or nano-influencers - social media personalities with fewer followers (anywhere from 1k to 50k) but higher engagement rates and more authenticity.

Building an influencer marketing program allows you to reach your potential customers where they're at. It allows you to better control the word-of-mouth marketing your brand is generating as you take a systematic approach to commissioning content from creators.

Through micro-influencer referrals, you not only gain brand awareness but also deliver added value to those who are referring you. You show the micro-influencers you're working with that you have a vested interest in your relationship with them and want to build a connection. The roll-on effect produces user-generated content and better customer retention.
Don't forget to check out these 8 skills that make a great influencer marketing manager!
How to Build a Successful Influencer Marketing Program in 2023
Like any marketing plan, successful influencer marketing requires time dedicated to building the right strategy, starting with research.
You probably already know what your target audience looks like but do you know which platform they're on? Instagram might not work for you, while TikTok could be a roaring success. Consider your demographic and if you don't already have a presence on that platform, you might want to leverage your existing following from another social channel.
It's important to select one or two channels to aggressively target at first. What works for one channel may not work for another. Deciding on which channels to target will produce better results in the short term. And once you have one channel mastered and are ready for more growth, you can expand to others.
Don't forget to check out our full guide to building a successful customer loyalty program in 2023.
1. Decide on Your Influencer Budget
While you're in the research phase, it's essential to establish a budget so you know what kind of allowance you have to spend on digital marketing and your influencer marketing program. This will also determine the kind of influencers you can partner with. Some will promote your product or service at no expense, so long as they receive free products while those with larger followings tend to charge per post.
For example, Jenna Kutcher, a lifestyle blogger and influencer in the wedding, fashion and home decor niche charges $8000 per post per platform for a brand endorsement and $1000 per Instagram story.
2. Partner With the Right Influencers for Your Niche
Building a campaign with an influencer or a group of influencers is not like building an advertising campaign, you won't be able to art direct their work and edit their copy. They are one full package: photographer, editor, stylist and copywriter. According to Forbes, "the influencer is in control of the brand's message, choosing how they would like to portray it." That's why doing the right research on the right people for your brand is so important at the very start of building your referral program.
Consider how you will find the right influencers to promote your product. Make sure you avoid incidents of inauthenticity that could harm your brand image by only partnering with influencers who stand behind your brand values. Working with influencers in your niche ups your chances of building a successful partnership.

When working with micro-influencers, be mindful of upskilling them with resources that can help them to improve their content, like this guide on 10 ways to create better content as a micro-influencer. It's worth investing in the quality of your influencer content, as it often outperforms branded content.
When you find the perfect match, remember, that you're working with real humans. That's the beauty of influencer campaigns. These are people who have spent time growing and engaging with other humans to build an organic following. This means they have a reputation to uphold.
Brands like SkillShare, Fuji Film and Audible partner with influencers using referral programs to promote their products. Our own platform has seen successful campaigns with IDEAL OF SWEDEN, Onepiece, PopSockets, Fabletics, and more.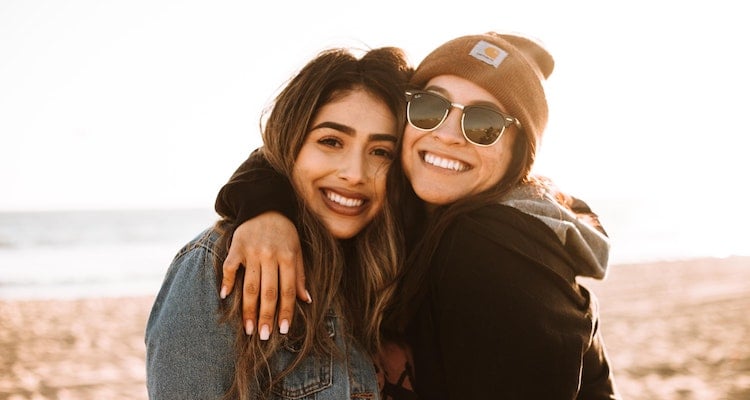 3. Is the Timing Right for the Objective?
Some brands may already have a loyal following on social media but may be struggling to convert them to sales. Before partnering with an influencer, evaluate the potential that each and every collaboration opportunity will bring to your brand before signing it off.
Consider what your objectives are. Do you want to improve your reach or engagement? Refine your demographics? Build brand values? Generate leads? Something else? Being clear on your goals will help to define at which stage to use which type of influencer. Some may be really good at creating awareness, while others might specialise in engagement, leads or sales.
4. Look at the Influencer's Engagement Ratio
What you really want to look out for when selecting which influencers to partner with is the amount of engagement they get per post. Phoney accounts might have 300K followers that they bought, but only get 20 likes on a picture. Social media marketing experts agree that buying followers is never a good idea because it ruins the integrity of a page, with an eventual massive drop in followers when you stop payments. You also risk Instagram shutting your page down entirely.
Social media is about quality over quantity and so you might choose to partner with micro- or nano-influencers who may only have a few thousand followers but whose audience actually actively engages with the page and sees the content regularly. Taking this route often results in better ROI.
5. Get the Right ROI
If you choose to source influencers without an influencer marketing management platform, you might want to audit the influencers you have chosen to work with to make sure they haven't bought fake followers. No point in throwing money away. Everybody wants that all-important ROI.
Improving your influencer marketing ROI requires you to consistently engage with and invest in your influencers, monitor performance metrics, and continue to scale your community.
Brand Ambassador Marketing
What is a Brand Ambassador?
Sorry! We didn't throw in another bit of digital marketing jargon just to confuse you but now seems like a fitting time to explain the difference between an influencer and a brand ambassador.
An influencer might be someone with the vanity metric of millions of followers. They're measured in the following they have and how much exposure they get in their personal capacity. An ambassador is measured in authentic community relationships. They have a genuine voice with believability and a level of trust.
When brand ambassadors talk about a product, you know they love it, they're buying it, or they want to buy it. There's a genuine connection between them and the brand. It's a bit like what Michael Jordan did for Nike back in 1984. He didn't simply endorse the brand by featuring in the adverts, he actually played in the shoe and eventually established Air Jordans. The product was trusted because he could win NBA titles and be voted as 'Rookie of the Year' while playing in the popular shoes.
Read more about the differences between influencers, affiliates and ambassadors.
Build a Long-Term Relationship
Ambassador marketing gives you the unique opportunity to build a thriving community of long-term content creators. As consumers lose faith in large influencers who have been exposed for inauthentic sponsorships or fake or bought followers, smaller creators have entered the spotlight.
Ambassador marketing is surging as brands want to partner with authentic creators over longer periods of time. Influencers often enter into short-term partnerships with brands. When followers see a product being endorsed once or twice, they might see through the marketing for what it is. But when creators affiliate themselves with your brand long-term, it shows that your products are actually a part of their daily life - something they can't live without. This continued loyalty to a brand inspires others to give your products a try.
Our ultimate micro-influencer marketing platform was created by a highly successful brand Onepiece to help similar fast-growing eCommerce brands connect with individuals who have the potential to be passionate advocates & ambassadors.
Our tool enables eCommerce brands to build a community around their most prized assets: their customers, followers and fans. We pride ourselves on partnering with authentic ambassadors because these are everyday people who create real connections.